Starting this guide on February 25th, 2020 I have 81 followers in Instagram (having 22 posts) and 422 in Twitter, I'll be focusing more in Instagram as that is strictly for my art, unlike Twitter where I post about many other random life things. I am aware the algorithms in Instagram are not the best for helping artists but I'll be following the things I notice that popular artists do and hope those tips help me as well.
What I am doing now
First off I'll start by stating how I've been terribly running my Instagram until now.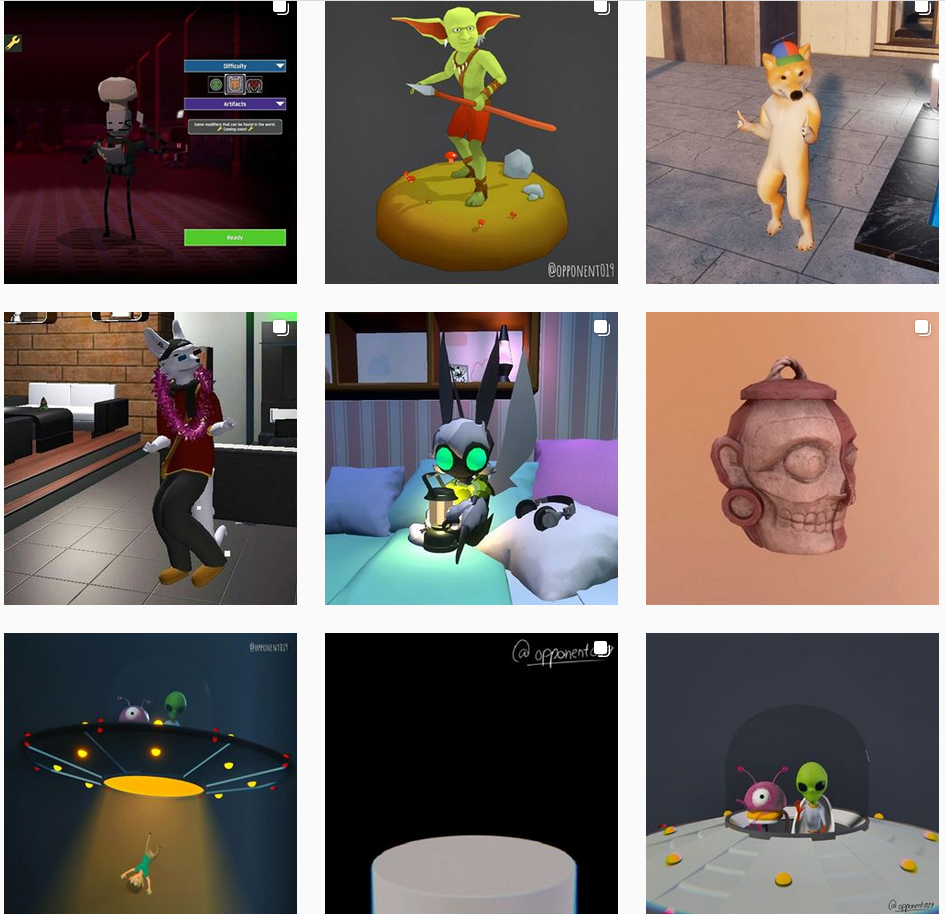 That lower middle image is a video, terrible way to start it off and have it as cover of the post. The only two posts I'm actually happy with here is the center one and bottom left. The others I think seem too mismatched. One of the things I have to work in besides social media presence is color theory and presentation I think. The doge one I think presentation-wise looks nice, it was a commission for a client, but I know many people will find it -as kids say these days- cursed.
I also have this hobby of taking pictures, which I have been told can be really good some times, but I keep them in my personal private Instagram. It works specially well because I have a tendency of travelling a lot to different places, and the place where I like to stay the most at is Vancouver which has lots of random interesting things to photograph.
I've seen some artists mix photography with their digital art in social media and can work very well together, but I'm also aware that it can narrow your target audience because people might like your photography but not your digital art or vice versa and they would rather not follow you at all to keep their timelines "clean". Anyway, I share this here because it's been taken into consideration and I will talk about this later.
---
General hashtags I use:
#renderZone #artStationHQ #lifeform #polygonArt #3Dstylized #lowpolyshowcase #polygonArtGroup #artistsHomeplanet #blenderCommunity #3Dillustration #cgSociety #blenderCentral
Hashtags on posts:
#3Dart #lowpoly3d #lowpolyart #3dlowpoly #gameart #3dgameartist #3dartshare #artShare #visiblewomen #3dartist #3dwireframe #3Drig #3drigging #blenderCentral #cgSociety #3dillustration #polygonArt #polygonArtGroup #lifeform #blenderCommunity #3dstylized #renderZone #commisionsOpen
#3Dart #lowpoly3d #lowpolyart #Blender3D #B3D #artShare #3dAlien #3drendering #eeveerenderer #lowpolyshowcase #3dillustration #3dstylized #artistshomeplanet #blenderCommunity #ultraRenders #blenderCentral #polygonArt #polygonArtGroup #lifeform #scifiart #cgSociety #artStationHQ #renderZone #arte3D #ilustracion3D #ilustración #artistaMexicana #artistaMexicano #artista3D #3Dartist
---
What others are doing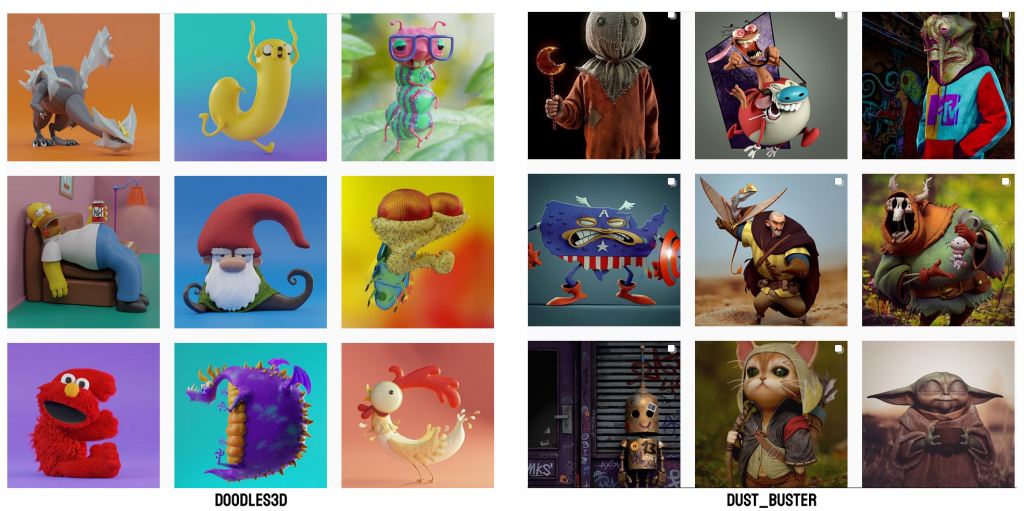 Doodles3D tends to upload with a bit paragraph of hashtags and will upload several posts of the same character in a row, sometimes avoiding multiple pictures per post, sometime even when having multiple posts they'll have multiple pictures inside.
---
#blender #blender3d #b3d #cyclesrender #cycles #3d #3dmodeling #cg #render #render3d #rendering #dailyart #design #designinspiration #characterdesign #art #illustration #digitalart #little #color #icecream #strawberry #cone #cartoon #3dcharacter #cartooning #digitaldrawing #doodles #doodles3d
#doodles3d #monster #littlemonster #blender #blender3d #blendercommunity #rendering3d #render #3dmodeling #3dartwork #3dcharacterdesign #3dcharacter #cutecharacter #digitalart #digitaldrawing #digitalillustration #illustration_daily #illustrationartist #3ddesigner #designinspiration #rendering #drawing #cartoon #cartooncharacter #ufo #slimy #eyesmonster #cartooning
---
Dust_buster seems to use less hashtags, although they do have a smaller following. On his last picture he added also the model without textures. He uploads the concept art he uses for every single post.
---
#kyounghwankim #speedsculpt #render #dnd #archer #cat #macro #cute #forest #substancepainter #maya #art #3d #zbrush #burningthemidnightoil #tired
#zbrush #cg #3d #iray #photoshop #substancepainter #render #concept #project #Art #sculpture #bunny #skull #forest #stylizedart #animation #maya #berries #cartoon #leather #midevil #clothes #help #ohno #helpme #cute #funny #happy
---
They have totally different styles in art, presentation, and hashtags, but they're rising. Dust_buster only has 30 posts, of which 1/3 are personal pictures; Doodles3D has 70 posts of just 3D doodles.
I've personally been doing both styles of hashtags: communities (blender, softwares, 3D specific) and detailing the art presented (forest, clothes, character-focused).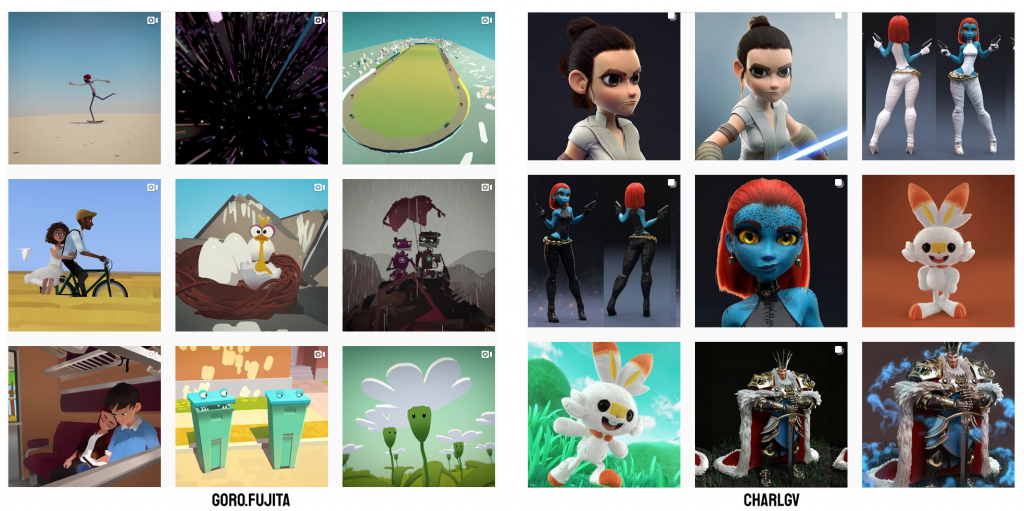 Goro I have been following for a while now, his work is impressive and I admire so much how he has something really cool to post basically every single day. I wish I had that energy, time, and motivation. He has 241k followers in Instagram, 1,353 posts, most of them are short animations made in Quill. He doesn't use hashtags, he's way past that point. But I wanted to bring him to attention to study his presentation and color combinations.
The animations can be super simple, just a loop of some simple short movement that brings the characters or environment to life, and something that I noticed and I believe is a stamp on his work that gives it a lot of value is the different angles he shows.
Carlos does use some hashtags and has 79 posts in his insta, and like myself he's Mexican. Most of his characters have 2 posts, some of them with multiple pictures on each post and showcasing the model without textures.
---
#rey #starwars #disney #scifi #3d #3dart #fanart #jedi #3dsculpt #zbrush #artstationhq #autodesk #characterdesign #characterartist #funnyart
#groovy #3d #3dart #cartoon #modeling #AutoDesk #zbrush #characterdesign #sculpt #cg #cgsociety #Maya #digitalsculpt #mudbox #charactermodel #Mexico #classic #clasico #50s #chévere #mexicoboy #chido #buenaonda #3darts #3d #cartoon #cartoony #creaturedesigns #cartoonmodern #procreate4 #lookdevelopment #picame
---
Learnings
I didn't just look at these artists, I looked at many others, and I look at so much artwork every single day. But I'm not going to make this post a bible, trying to keep it short but with references. Some of these things in the list I've noticed from other artists too:
Show different angles of your work. Do close ups. Show the details you spent so much time working on and can't really be seen from a full-body render in a phone screen.
Don't limit yourself to one post, do a couple posts, showcase it, make sure people see it.
Add some WIP pictures, without textures or post-processing, showcase the rig.
Hashtags are your friends, don't limit them either. Make sure they actually help though, go into the hashtag and see how many posts a day there are, how often do you think it's visited? Create your own hashtag too.
Insta-stories showcasing WIPs. I didn't list them above since I can't really attach them here, but they are a thing, and people dig them. It shows how much detail is put into it, how much work it is, and how human you are while making it.
Upload often, doesn't have to be daily, but one post a week goes a long way.
If you want to mix in some photos with the rest of your work, go ahead, there's audience for that. Seems to be much more of a personal preference than a success tip.
Tag accounts that showcase others' art like Blender Central or lowpoly_showcase.
Doing social media is hard work, takes energy, time, and dedication. But it gives results. Currently I'm doing two schools and work at the same time, so I barely have the energy to attend to this, but hopefully I can start applying this soon. Wrote it down to keep it in mind for my future self.
Am I missing something? I'd appreciate you letting me know!
Hope this helps 🙂